Posts
December chrismahanukwanzakah party
Entry posted on Dec 14 by MarkDuBois , tagged Design,Development,Event,Mobile
We held our December meeting at Tequila's restaurant in Washington, Illinois on Dec. 13. We had several new members join our group as well as some members who have not been able to participate for some time. We had a number of great discussions over nachos and drinks. After the meal, we held our user group meeting. I brought a number of my tablets (BlackBerry Playbook, Archos 101t, Samsung Glaxy Tab 10.1, and Kindle Fire). Everyone had a chance to examine and compare the hardware (several played Angry Birds). I then gave a demonstration on various Adobe Touch Apps (with an emphasis on Proto, Photoshop Touch, and Ideas). Several had the opportunity to try these apps out for the first time and made a number of comments about these and their potential use in the initial design process for websites and logos.
Before the meeting ended, I distributed a number of Adobe prizes to those present (mouse pads, pens and so forth). Jim kindly gave Shari and I a gift as well. Many thanks Jim.
We agreed to hold our next meeting in January (refer to the event calendar for details).
Best wishes to all for the coming holidays,
Mark
November, 2009 meeting
Entry posted on Nov 06 by MarkDuBois , tagged Rich Internet Apps,Development
The November, 2009 meeting of our Central Illinois Adobe User group was held on Nov. 5 in room TC 210 on the East Peoria campus of Illinois Central College. This was a joint meeting with the Central Illinois chapter of the World Orgaization of Webmasters. I gave a presentation on the use of local development environments. We briefly reviewed various server technologies for deploying web applications. These included the LAMP stack, Microsoft's IIS ecosystem, Coldfusion, and Java Server Pages with WebSphere. Regarding local test environments, we covered the use of XAMPP in some detail (including modifying Aptana Studio to focus on that server instead of the Aptana supplied Jaxer server).
I also spent some time discussing the Virtual Box soution from Sun to run a local copy of Ubuntu Server on Vista Home Premium. Since many other virtual environments require some form of IIS on Windows and VIsta Home does not support that, this is an alternative for many students who run Vista Home Premium.
We discussed the separation of test, quality assurance, and production environments and the importance of having such a setup.
We also spent some time discussing possible changes to the website to attract a greater number of participants to our local meetings.
June, 2009 meeting
Entry posted on Jun 19 by MarkDuBois , tagged Design,Development,Rich Internet Apps
Our June, 2009 meeting was held last night (June 18) in room TC 210 on the ICC East Peoria campus. In addition to the regular members, we had one new prospective member.
Jonathan Worent (OIC Group) continued his presentation on SEO. For this session, he briefly reviewed the main tenants of SEO discussed at his previous session. We then had a hands on session where Jonathan reviewed various sites submitted by the audience and discussed ways to improve SEO for those sites as well as a review of current walls preventing higher rankings.
Mark DuBois also briefly reviewed the Open Web Education Alliance (founding members include World Organization of Webmasters and Adobe) and discussed implications for students in the local area. He also discussed his role (and the role of WOW since February of this year in getting to this point).
Finally, Mark reviewed some of the new offerings available at Adobe Labs and discussed implications of those beta product offerings on what is happening in the evolution of the WWW.
Feedback from participants indicated they liked this format for the meeting and were excited about the many new offerings.
In other news, we elected not to have a July meeting. We tentatively agreed on meetings dates and topics for August and September.
December meeting
Entry posted on Dec 15 by MarkDuBois , tagged Event
We held our December meeting at The Galley in East Peoria, Illinois. Mark provided appetizers and Frank brought fudge and cookies. Most members also stayed for dinner. This was our annual Christmahanakwanzika party. Many of our current members attended and we had a new member (Brett Melton) officially join our group. Various Adobe prizes were diestirbuted to members present (those who earned the most points got to pick first form the many items available). As a reminder, we assign points based on attendance at meetings (2 points per meeting) and speaking at a meeting (10 points per session).
We also discussed the topics for our January meeting and agreed to meet again on the second Tuesday of each month in 2011. Our group is starting to grow and we are now seeing more practicing professionals in additional to our aspiring professionals. Those who are in the vicinity of Peoria on Jan. 11 are encouraged to attend our next meeting.
August meeting - room TC 210
Entry posted on Aug 11 by MarkDuBois , tagged Design,Development,Event
We held our August meeting on the ICC East Peoria campus in room TC 210.
The meeting began with a review of materials gathered by Laura Schmidgall dealing with web analytics. This included viewing part of a video by Avinash Kaushik (of Google). One of the key points is that we are awash in data, but lack meaningful insights. The data we collect needs to drive specific actions.
Jonathan Worent provided a session on Photoshop tips and techniques. He is often given large graphics which do not tile well to be used as background images on websites. He demonstrated how to use the offset filter to generate a version which can tile nicely. Great use of an alternate technique to tessellated images.
Matt Scachette provided an overview (using Dreamweaver and the Firefox Developer Toolbar) of how to create help boxes using CSS. A good discussion followed concerning how these techniques are interpreted by search engines.
Lastly, I pprovided an overview of some of the features in HTML5 which can be used now (and noted some which are not yet ready fro prime time).
Our next meeting is scheduled for September 14 in room TC 210 on the ICC East PEoria campus. We will begin that meeting at 6 p.m.
December, 2012 Holiday Party
Entry posted on Dec 12 by MarkDuBois , tagged Event,Development,Design
We held our December, 2012 meeting at Avanti's in East Peoria, IL on Dec. 11. Although a smaller number of people participated, we all had a great time. Mark provided door prizes to all in attendance. We discussed plans for future meetings and the types of prizes that would be of most interest to our members.
We had a number of great discussions around the types of presents we were planning to get for techies. We also covered various web design and development topics.
Many thanks to all who particiated.
As a note, we decided not to hold a January meeting as it would conflict with th start of the spring semester. Or next meeting will be in February, 2013.
Happy Holidays to all.
September meeting
Entry posted on Sep 14 by MarkDuBois , tagged Event,Development,Design
We held our September meeting in roo TC 317 on the East Peoria campus of Illinois Central College. Mark DuBois reviewed the new products from Adobe - MUSE and Edge. Mark showed how Muse can be used for prototyping and demonstrated how to create a working website prototype in roughly 5 minutes. He then spent a fair amount of time explaining the various features and reviewing the code generated. Part of that information was recorded. He also showed how to use Edge to animate parts of an existing website.
Jonathan Worent spent time explaining the fundamentals of change management and discussing the tools he uses. These include Git (and the various associated programs). He covered the importance of change management software. How to track files and what is meant when someone creates a branch in their development.
Lastly, I covered a bit about URL shortening using Bit.ly (creating a custom URL shortener) which can then be used to track who is visiting which links.
We also awarded a door prize of a Webucator class. Jim Harlan was the lucky winner. I have included a photo of him with his training voucher. Many thanks to Webucator for making this available to our members. I have included a photo of Jim with this posting.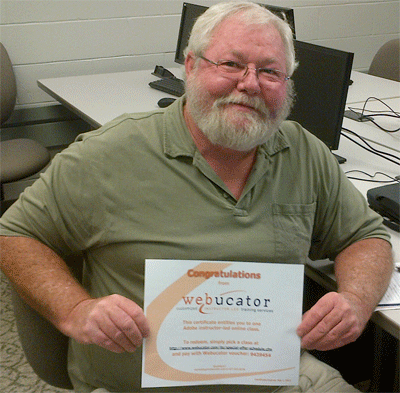 August 9, 2011 meeting
Entry posted on Aug 10 by MarkDuBois , tagged Event,Design
We held our August 2011 meeting in room TC 317 on the East Peoria campus of Illinois Central College. We had two presenters (myself and Larry Ball).
Larry talked about an Acrobat X form he created for a local client and some of the issues he encountered as part of developing and deploying that form. He also showed us a PHP script he developed in conjunction with the form to send a copy to selected individuals via email. The problem he encountered is with opening FDF files in Safari (the PDF container must be in the same folder). Apparently, this is a known problem that was fixed but has since re-appeared in Acrobat X. I suggested he submi a bug report.
I covered the fundamentals of working with the Adobe Edge product and I also gave a presentation on securing WordPress sites. I got the idea from watching a lynda.com tutorial on the same topic. Rather than summarize my presentations, I provide a direct link to them so viewer have some idea of what our user group meeting topics entail.
Securing WordPress sites presentaation (20 minutes) - http://markdubois.me/pHvzKA
Adobe Edge overview (21 minutes) - http://markdubois.me/qYsK0f
October meeting
Entry posted on Oct 16 by MarkDuBois , tagged Development,Rich Internet Apps
The October meeting of our group was held on Oct. 15, 2009 in room TC 210 on the ICC East Peoria campus. Our main speakers were from OIC group - Online Innovative Creations. They spoke about their content management system. Fred Dirske (President, Online Innovative Creations) prodived an introduction to their CMS. Jonathan Worent (senior Developer and local WOW chapter president) then provided an introduction to the CMS itself and the framework in which it was developed. He was followed by Phillip Ball (from the San Diego office of OIC) who devled into the technical details of their offering. All responded to several insightful questions from the audience. Those who wish to download a copy to try it out can visit http://exponentframework.org/. The presentation was captured in ConnectPro (since Phillip was participating from San Diego). I am presently working on making this presentation available. Contact me if you wish specific details.
A number of prizes were awarded to those in attendance. These included t-shirts from OIC and some Windows 7 prizes and software certificates (for anti-virus and related products). These were provided by David Sinclair who recently hosted a Windows 7 event locally.
After the OIC presentation, I briefly covered my experiences at the recent AdobeMAX conference. More information is posted on my weblog (http://www.markdubois.info/weblog/). This includes links to a number of photos and a video on YouTube announcing iPhone support for Flash. I also spent a little time demonstrating some of the interesting thigs one can do with Pixel Bender (and showed some working examples). The meeting lasted roughly 2 hours and was well attended.
February 2012 meeting
Entry posted on Feb 15 by MarkDuBois , tagged Event,Development,Design
We held on February meeting in TC 309 on the ICC East Peoria campus lat night (yes, Valentine's Day). This meeting was well attended and there were a number of new faces (both students and professionals). We welcomed all new individuals and everyone briefly introduced themselves.
Mark DuBois gave an overview of the CSS-3 flexible box model and discussed why it should not be used presently as the specification has changed. He did provide some working examples. A link is provided to the presentation (and slides). He also discussed several online sites where one can experiment with many of these cSS-23 features in selected browsers.
Larry Ball and Tyler Jefford discussed changes they are making to the Illinois chapter of the Web Professionals site. They started with WordPress and the skeleton theme (so they could provide proper skinning throughout). They covered various plugins which are being considered for incorporation into this site.
Larry Ball also discussed the approach he was taking at a website to make it appear there is a form within a form. As we know, HTML will not allow for this, but one can make it appear as if this is the case.
We also discussed planned topics for the March meeting. That meeting will be held in conjunction with the local chapter of OWASP. We hope to see veryone at the March meeting.